Adult Orthodontics
The Difference between Child and Adult Orthodontics
Most think orthodontics is a treatment for youth. This is just a myth, orthodontics does work for elders, and is also effective to move teeth of older patients. Someone say that teeth movement is slower and cause more pain. These are also misunderstandings, pain and speed of movement do vary, but according to individual character, not age.
Basically, the aim of adult orthodontics differs from child orthodontics. Jaw bones of children are not completed, so the main aim is to modify the growth (Stage I). Adults do not have growth potential, so we can only align teeth coordinating to the completed jaw bones. In summary, child orthodontics is for "jawbone guidance", and adult orthodontics is for "teeth alignment only". However, the range of adult tooth movement is now excessive than most imagine, even without bone modification. Most adult cases can be treated except few cases with large bone discrepancy. Orthodontics can change the appearance, smile, function, health, and life. Please consult us if there is anything that concerns you.
Issues of Adult Orthodontics
Understanding the Physical Condition
Adult orthodontics without surgical approach cannot change the skeleton, as we have described. Thus, it is very important to understand the present physical condition of facial part, which is totally different in every patient, at first. The facial skeleton, lateral facial profile, smile line, and soft tissue (togue and gingiva) should be examined carefully first. And then set a plan based on academic evidence base to coordinate tooth alignment to fit them. This is "individual skeleton-based treatment".
Obtain Functional Occlusion
Orthodontics is not all for cosmetic purpose. Our doctors dedicated on orthodontics in Tokyo Medical and Dental University, whose orthodontic
treatment lay great emphasis on correcting occlusal functions. Appropriate masticatory function does not cause excessive loading to stomach and intestines, correct muscular function lead to correct pronunciation and swallow. Moreover, functional occlusion induces esthetical alignment spontaneously.
Surgical Orthodontics Collaborating with Other Clinics
Severe skeletal problems should be considerate to treat by surgical orthodontics. This is a treatment covered and incorporated by national medical insurance in Japan. We are sorry that our clinic does not apply insurance presently. Therefore, the patients are judged to be applied to surgery, we will refer them to our collaborating clinics or hospitals.
Clear and Esthetic Braces
Traditional labial (front side of teeth) orthodontics is treated with wires and braces. Labial orthodontics is the most mature and completed technique. Though many new techniques have appeared recently, it is still the most effective and efficient method for both doctors and patients.
Thus, we use this technique mainly. In the rest of world, metal braces are major, but clear braces are used in almost all cases in Japan. Esthetics during the treatment is much increased with these appliances.
Advantages of Labial Orthodontics
Indicated to all cases with different difficulty.
Cost less than other orthodontic techniques.
Variable devices can be selected.
Developed for a long history, the most mature and effective technique.
Move teeth most efficiently, thus take the least treatment duration.
Adult Orthodontics
Clear Plastic Braces with Metal Wires
¥770,000
Clear Ceramic Braces with White Wires
¥880,000
Metal Braces with Metal Wires
¥715,000
※金額が大きいため分割支払いは可能です。手数料などはかかりません。

分割回数も上限を設けられていませんが、原則的矯正装置撤去まで支払いできれば問題ないです。

※ほとんどの場合は基本施術料で(別途料金発生せず)すべての装置料をカバーできますが、特殊な補助装置が必要な場合もあります。その場合は説明し、ご了承いただいた上、追加料金を実費でいただきます。


デジタル設備の活用
当院では口腔内スキャナー「iTero」と歯科用CTから得られるお口の情報をデータ連携させたシミュレーションソフトを使用しております。あまり一般的に知られていないことですが、歯は顎の骨に上に並んでいます。このシミュレーションソフトによって矯正治療で歯が移動できる限界の位置、安全な位置を視覚化し、歯肉退縮といったリスクを回避した安心で安全な矯正治療をご提供してまいります。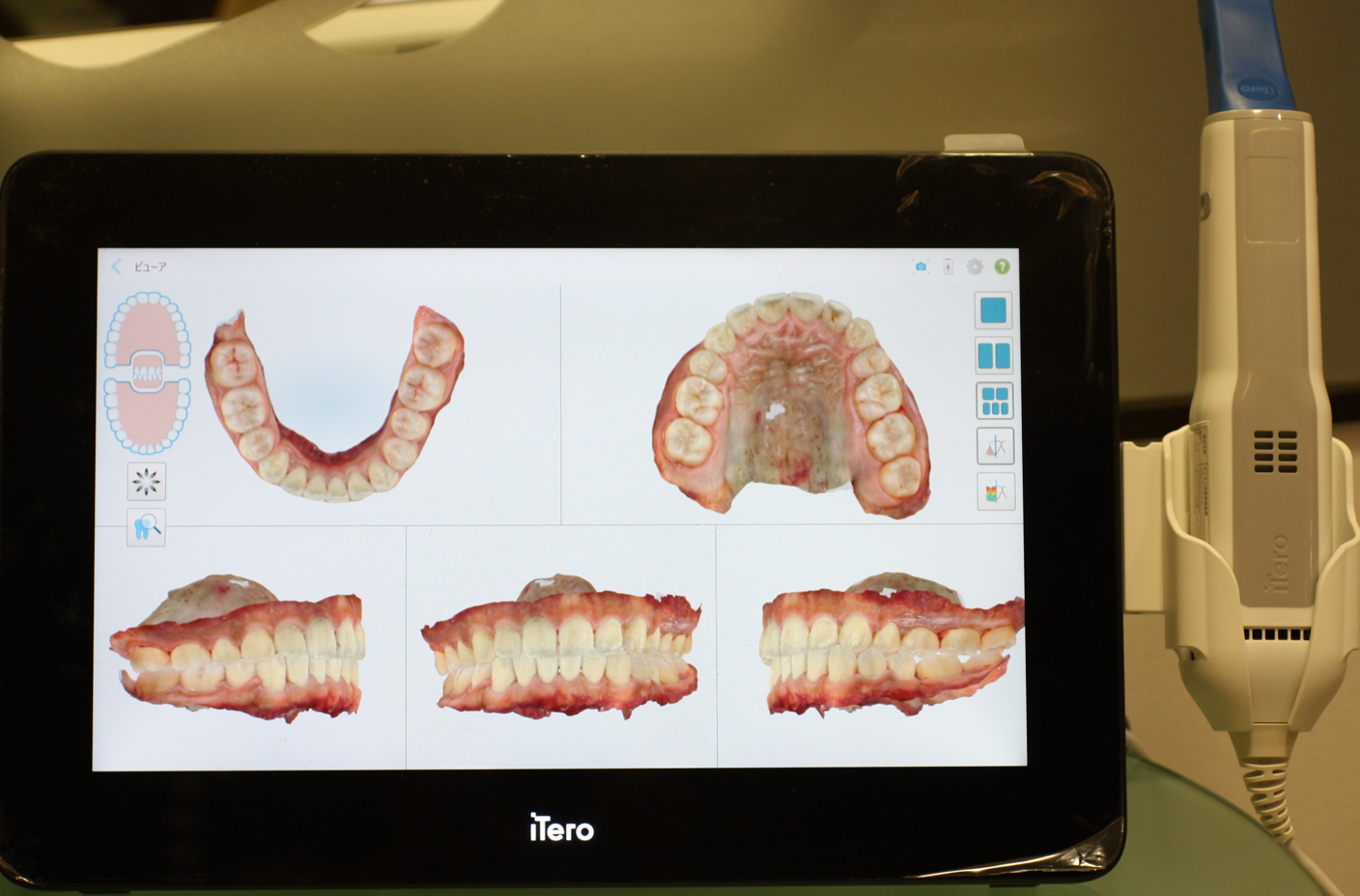 【口腔内スキャナー】
患者様の現在の歯並びをスキャンし、モニター上に再現いたします。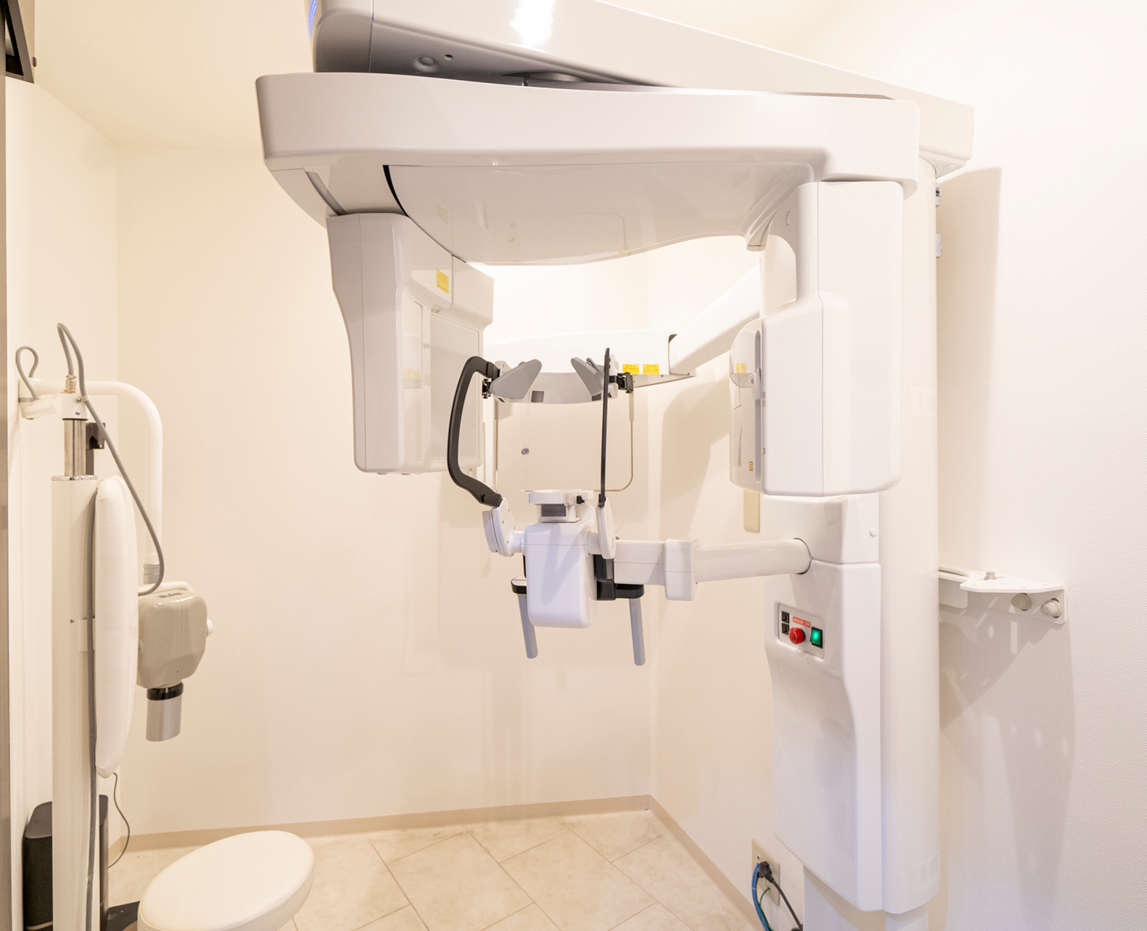 【歯科用CT】
低被ばくのCT撮影により顎の骨の厚さや歯の形状、顎関節などの情報を取得いたします。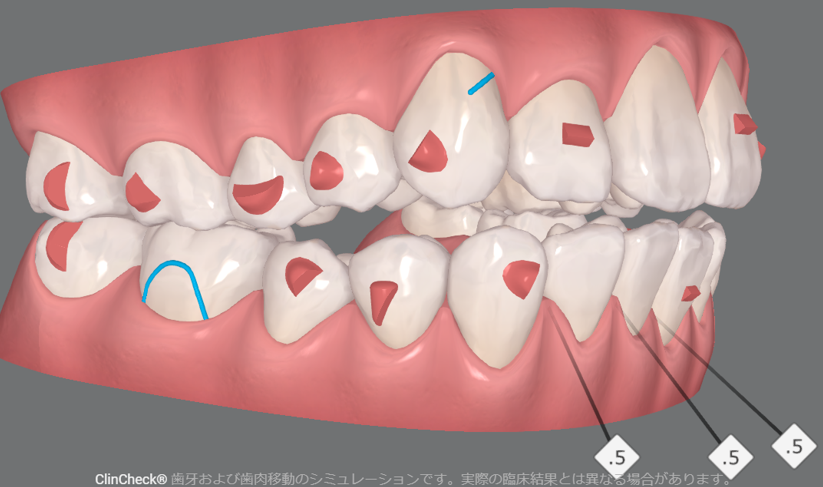 【シミュレーションソフト】
口腔内スキャナーと歯科用CTより得られた患者様のお口の情報を連携させ、治療のシミュレーションプランをお見せいたします。
Treatment Duration and Frequency of Visits
General Orthodontic Treatment Duration
Since all patients have different condition and initial alignment, it is difficult to estimate the treatment duration uniformly. But in general, it takes 2 years in average for "active treatment" which is the duration wearing braces. The mechanism of tooth movement is to disrupt the surrounding bones of teeth and then regenerate them, thus the velocity is biological limited. We cannot move teeth too quickly that damage tissues.
Frequency of Visits
The cycle of tooth movement is about 3 weeks, so we usually ask patients to come once in a month for wire adjustment. If it is not possible to take an appointment so frequently, for the reason such as living a distant place or being busy, we can elongate it. And we will adjust the devices fitting to the appointments.
Retention
After the braces removed, the "retainer" is necessary to keep the treated alignment. There are several types of retainers, but most of them are removable. The duration of retention is about 1 year for 24 hours. If the alignment of teeth become stable, the retainer can be worn only during sleep.
The Procedure of Treatment
At first visit, we will ask you about where you want to improve and your request. Then we will tell you the estimated total fee and approximate treatment plan. If you have any problem about tooth alignment, please consult us freely. This consultation is free of charge and is available for multiple times. Moreover, it is also available to consult us online through consultation form. Please feel free to contact us.
If you have decided to be treated in our clinic, we need to have an examination including impression, photo and X-ray taking. Please do not worry about the exposure of X-ray since our machine is digital with very low dose.
step

3
Diagnosis (Confirm Treatment Plan)
We analyze the materials from examination carefully at first. Then develop a plan fitting to the patient's individual condition and request. We will also refer the patient to our collaboration clinics to have general dental treatment if necessary.
step

4
Braces/Appliances Delivery
Deliver braces or other orthodontic devices. It takes longer time in this appointment. We also explain the precautions to patient at the first time.
step

5
Active Treatment (Regular Visit/Adjustment)
Let patients have daily life with orthodontic devices. We need to check and adjust the appliances regularly. In general, appointment is taken once a month.
step

6
Finish Active treatment(Remove devices)
After goals of orthodontics completed, we remove the devices. The alignment is not stable at this point, so the retainers are necessary to be wear.
step

7
Retention and Follow up
After active is finished, we still need to follow up the stability of dentition and check the occlusion regularly. It is also necessary to clean and check the fitting of retainers. However, the frequency of visit may be reduced much than the active treatment.