Partial Orthodontics
Partial Orthodontics
Partial orthodontics is a treatment without putting devises on full mouth, it is also known as minor tooth movement (MTM) in Japan. It takes less charge and time and cause less pain and irritation.
Most cases of partial orthodontics are applied to align adjacent dentitions before prosthodontic treatment (crown/bridge/implant). The quality of prosthesis advance much with orthodontics. It means that partial orthodontics is a part of comprehensive treatment combined with other dental specialists. The other cases are performed to improve esthetics partially, please refer to the column at bottom. However, since all dentition and occlusion are linked, moving the certain target teeth is not always possible without movement of the others which seem irrelated. Thus, it is much more difficult to reach the goal than full orthodontics because partial orthodontics cannot change all dentitions. It need higher techniques, but we are experienced to manage these cases with least devices
Application of Partial Orthodontics
Let us introduce several cases applied to partial orthodontics.
Tilting Tooth with Delivery of Crown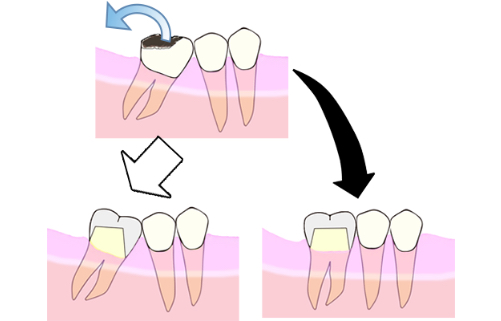 If the tooth, which is planned to make a crown upon it, is tilting, the occlusion force will be transmitted falsely since the axis of it differs to occlusal force. Moreover, it is necessary to reduce much more thickness tooth for preparation of crown needs with tilting tooth. Please see the figure. Partial orthodontics can upright the tilting teeth and prevent these bad effects.
Tilting Adjacent Teeth with Delivery of Bridge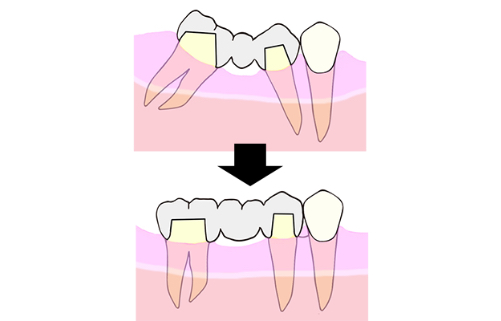 If the abutment teeth (supporting teeth of bridge) are tilted, the supporting ability will be insufficient. This is because the occlusal force transmitted to bridge is not even due to false axis, thus the bridge itself may come off and the periodontal disease may be caused. Orthodontics prior to the bridge delivery can prepare adjacent teeth, adjust the space for bridge, and then elongate the life of it.
Space Insufficiency of Implant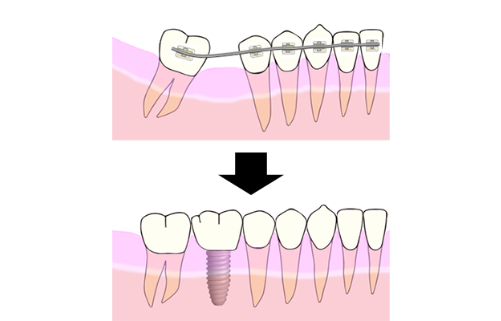 This case is caused because of tooth missing without having any following management to keep the space. The adjacent teeth will tilt to the extraction space hereafter; thus, this space will get narrow and deficient for implantation. Partial orthodontics can help regain the space and adjust occlusion.
Brushing Difficulty with Tooth Crowding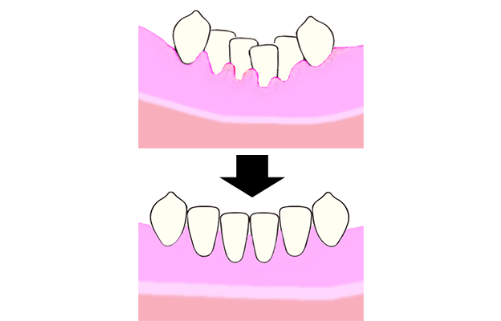 When alignment is bad, it is diffulcult to clean all surfaces of teeth. Accumulating plaques and calculus harm teeth and surrounding tissue, cause both decay and periodontal diseases. Orthodontics can help align dentition and prevent these diseases.
Space Closure after Tooth Missing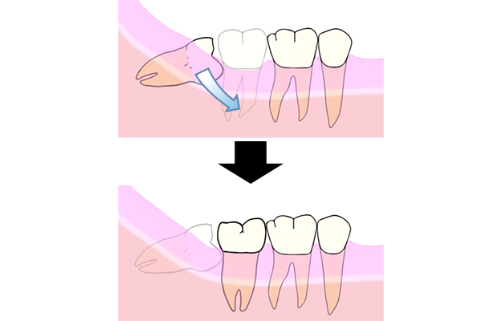 After tooth missing, prosthodontic treatment is intervened generally. However, orthodontic space closure can be considered if the condition allows. It takes longer time to restore missing with orthodontic method but obtaining much better result since no artificial prosthesis need to be delivered into mouth.
Preservation of Tooth with Large Decay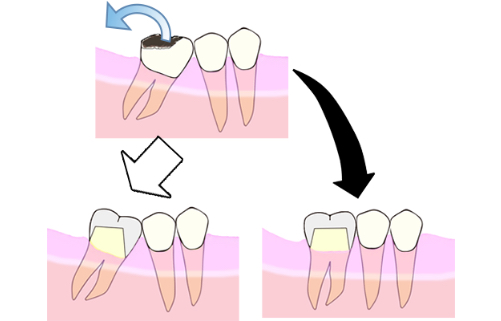 The crown part crashed when tooth is decayed too large, and only the root part remained under the bone. Most of retained roots should be extracted, because remained tooth substance cannot provide sufficient support to grasp a new artificial crown upon them. However, orthodontics can elongate the root and help increasing supporting tooth substance. Thus, retained root can be preserved by setting a new crown.
Partial Orthodontics for Esthetics?
We have described the application of partial orthodontics related to prosthodontics and function. In fact, partial orthodontics can also be applied to treat for esthetic purpose. Let us introduce several cases:
Orthodontic treated, but alignment relapsed without good retention.
Dentition is mostly good aligned, only little part should be treated.
Satisfying with limited esthetic improvement.
Comparing to full mouth orthodontics, partial orthodontics cannot fix all esthetic problem. Besides, not all cases are able to be applied by partial orthodontics. If you are interested to this method, please consult us first.